5 Minute CleanWalls Multi-use Mop
Secure Checkout
Ships in 2 Days
100% Satisfaction Guarantee
The 5 Minute CleanWalls CleanFloors Multi-use Mop will help you reach all those hard to reach places in your home. This patented tool lets you safely refresh any room by gently cleaning painted walls, floors, ceilings, and baseboards. You can dry dust, damp wipe, or a wet wash in minutes. Use your extendible wand combined with our 5 Minute CleanWalls 4-in-1 Everyday Cleaner spray that lets you instantly improve indoor air quality by eliminating dust, cobwebs, and allergens from your home in minutes.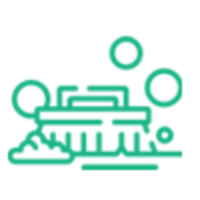 Use on Multiple Surfaces

Kid Safe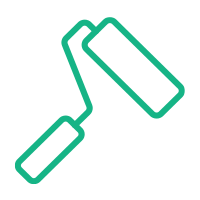 Safe for Painted Walls
MULTI-USE, VERY LIGHTWEIGHT
Cleans walls, ceilings, baseboards, door or window trim and in corners.
3 piece stainless steel pole for maximum durabilty
Unlike disposable wipes, the micro fiber pads can be machine washed and re-used
Stainless Steel variable tension hinge; allows maximum flexibilty and control in cleaning up high or down low
CLEANER, HEALTHIER HOME
Reach the difficult areas with an easy-to-use tool
Remove dust, dirt, grease, and grime
Reach cobwebs, dust, and other allergens
Elimate smoke and other odors
Frequently Asked Questions
Anyone who has ever cleaned their walls and ceilings will tell you it is an extremely unpleasant, difficult task. You are foreced into multiple uncomfortable positions - hands and knees, bending over, reaching high or on step stolls and ladders (falling off ladders is a leading cause of serious home related injuries). Plus - cleaning such large areas takes so much time when doing it by hand. You don't often clean your floors by hand so why should you have to do so for your walls?
That's why we invented ClenWalls. Using our patented tool you can quickly clean large areas with an easy back and forth motion. You can clean down low without back strain and sore hands and knees. You can clean up high standing safely on your floor without neck and shoulder strain.
The lightweight desing makes it reduces fatigue when using at shoulder height and above. The pointed tip lets you clean corners and around trim and the microfiber mitt is safe for all surfaces and can be used dry, damp or wet.
Yes, 5 Minute CleanWalls is safe for all painted and sealed surfaces including cabinets, wood and tile.
5 Minute CleanWalls is designed to fit all standard threaded extension poles (technical term - acme standard thread). Your reach is limited only by your extension pole - another reason for the lightweight design.
Walls, ceilings, baseboards, trim anywhere dust allergens and grime build-up.
Yes, the lightweight design makes it easy to 'sweep' your walls and ceilings clean. the head pivots to allow cleaning from multiple angles and the variable tension hinge lets you set the head to a tight or loose position as you prefer. We have easy to use tips and videos available for you as well.