5-Minute CleanWalls PLUS Bundle
Secure Checkout
Ships in 2 Days
100% Satisfaction Guarantee
The 5 Minute CleanWalls Bundle Buy will help you save while you clean. Bundle and save on all of your favorite CleanWalls products together to safely refresh any room by gently cleaning painted walls, ceilings, and baseboards. This bundle includes the 5 Minute CleanWalls 4-in-1 Everyday Cleaner, 5 Minute CleanWalls Wall & Ceiling Mop, two yellow replacement mitts, and one blue microfiber mitt.
*ALSO a special bonus! Our Kitchen & Home Cleaner Degreaser concentrate that makes four 32oz. bottles of cleaning solution!
Kitchen & Home Cleaner Degreaser is unmatched for performance and versatility. 3x faster: A fast-acting, water-based, grease cleaner/motor oil remover, gentle enough for laundry stains and auto carpet cleaning. All with a fresh Mountain Peak Scent!
SAFE FOR: appliances, stainless steel, tile, copper, aluminum, brass, vinyl sealed wood, plastic, rubber, and more.
USE ON: stove, oven, grill, car parts, rims, grout, bug splatter, and more.
HANDLES TOUGH ODORS: eliminates unpleasant odors from smoke, tobacco, pets, food, and more.
SAFER FORMULA: our non-corrosive, water-based formula is free of bleach, acid, dangerous solvents, and dyes.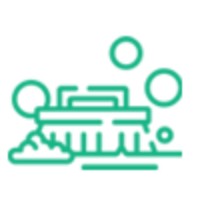 Use on Multiple Surfaces

Kid Safe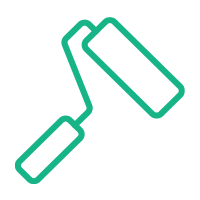 Safe for Painted Walls
MULTI-USE, VERY LIGHTWEIGHT
Cleans walls, ceilings, baseboards, door or window trim and in corners.
3 piece stainless steel pole for maximum durabilty
Unlike disposable wipes, the micro fiber pads can be machine washed and re-used
Stainless Steel variable tension hinge; allows maximum flexibilty and control in cleaning up high or down low
Buy Now
CLEANER, HEALTHIER HOME
Reach the difficult areas with an easy-to-use tool
Remove dust, dirt, grease, and grime
Reach cobwebs, dust, and other allergens
Eliminate smoke and other odors
Buy Now
Frequently Asked Questions
Painted surfaces are unique in two ways. They absorb odors (ie body, cooking, pets, malodors). They require specific cleaning chemistries that will not damage the surface. 5 Minute Everyday painted wall cleaner handles both.
It contains a patented deodorizer that eliminates malodors on contact and leaves a fresh meadow scent. Secondly, the cleaning chemistry removes soils and stains without damaging the surface. Walls look and smell great.
Yes, high gloss, semi-gloss, satin, eggshell, faux, and flat. It is always a good idea to test first in an inconspicuous area if you are uncertain of the finish (some poorly prepped surfaces may have weak paint adhesion).
Yes, it is a wonderful hard surface cleaner and deodorizer. Great for trash cans/areas, diaper disposal bins, pet areas, etc.
Spray and wipe with a cloth or paper towel. For larger areas, it is ideal to be used with the 5 Minute CleanWalls Dust and Wash Tool. Either apply directly to the microfiber head and wipe the wall or spray directly on the wall and wipe with the 5 Minute CleanWalls Dust and Wash Tool.
Walls, ceilings, baseboards, trim anywhere dust allergens and grime build-up.
Yes, It is non-toxic, bio-degradable with eco-friendly VOC free cleaning package.