5 Minute CleanWalls Bundle (CleanWalls Tool, Spray, & Baseboard Duster)
$39.99
$59.99
Free Shipping!
Secure Checkout
Ships in 2 Days
100% Satisfaction Guarantee
The 5 Minute CleanWalls Bundle Buy will help you save while you clean. Bundle and save on all of your favorite CleanWalls products together to safely refresh any room by gently cleaning painted walls, ceilings, and baseboards. This bundle includes the 5 Minute CleanWalls 4-in-1 Everyday Cleaner, 5 Minute CleanWalls Wall & Ceiling Mop, one Blue Baseboard Duster, and one yellow replacement mitt.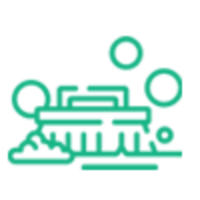 Use on Multiple Surfaces

Kid Safe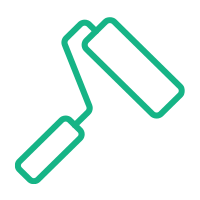 Safe for Painted Walls
MULTI-USE, VERY LIGHTWEIGHT
Cleans walls, ceilings, baseboards, door or window trim and in corners.
3 piece stainless steel pole for maximum durabilty
Unlike disposable wipes, the micro fiber pads can be machine washed and re-used
Stainless Steel variable tension hinge; allows maximum flexibilty and control in cleaning up high or down low
Buy Now
CLEANER, HEALTHIER HOME
Reach the difficult areas with an easy-to-use tool
Remove dust, dirt, grease, and grime
Reach cobwebs, dust, and other allergens
Eliminate smoke and other odors
Buy Now
Frequently Asked Questions
Painted surfaces are unique in two ways. They absorb odors (ie body, cooking, pets, malodors). They require specific cleaning chemistries that will not damage the surface. 5 Minute Everyday painted wall cleaner handles both.
It contains a patented deodorizer that eliminates malodors on contact and leaves a fresh meadow scent. Secondly, the cleaning chemistry removes soils and stains without damaging the surface. Walls look and smell great.
Yes, high gloss, semi-gloss, satin, eggshell, faux, and flat. It is always a good idea to test first in an inconspicuous area if you are uncertain of the finish (some poorly prepped surfaces may have weak paint adhesion).
Yes, it is a wonderful hard surface cleaner and deodorizer. Great for trash cans/areas, diaper disposal bins, pet areas, etc.
Spray and wipe with a cloth or paper towel. For larger areas, it is ideal to be used with the 5 Minute CleanWalls Dust and Wash Tool. Either apply directly to the microfiber head and wipe the wall or spray directly on the wall and wipe with the 5 Minute CleanWalls Dust and Wash Tool.
Walls, ceilings, baseboards, trim anywhere dust allergens and grime build-up.
Yes, It is non-toxic, bio-degradable with eco-friendly VOC free cleaning package.
Customer Reviews
Write a Review
Ask a Question
11/17/2020
Devondra M.
United States
Motivation
This product motivated me to clean my walls Very good product. Im glad I bought it.
11/18/2020
Healthier Home Products
Devondra Thanks for taking time to write us - we're glad you bought it too! Welcome to the Healthier Home Family! Kent
11/11/2020
Shelli H.
United States
Wonderful Product
I am so pleased with the CleanWalls Bundle. It was so easy to quickly clean & freshen my walls. The cleaning pads in the kit easily moved over my walls & ceiling. I had tried a swiffer with a cloth previously & had a terrible time trying to move it over the walls. I highly recommend this product.
11/12/2020
Healthier Home Products
Shelli; Thank you for the wonderful review and especially for sharing your thoughts on CleanWalls as compared to another product. We have seen other customers refer to trying to clean their walls using a floor cleaner and understand their frustration. Using a hammer on a screw might work but it's not the best tool for the job. CleanWalls is designed to clean walls and ceilings so - the right tool for the job. Welcome to the Healthier Home Family! Kent
11/11/2020
Tracy B.
United States
Love 5 minute clean walls
Can't believe how this freshened up the walls that I totally thought we needed to paint. My home smells fresh and looks clean! Even ordered the holiday scent bc I liked the product soooo much!
11/12/2020
Healthier Home Products
Tracy; Thanks for brining this up - 5 Minute CleanWalls refreshes how your paint looks....you might not want to repaint. And thank you for ordering Holiday hearth - I'm pretty sure you're going to love it! Happy Thanksgiving and Merry Christmas - enjoy the Holidays! Kent
11/10/2020
Melissa
United States
So Far I'm Impressed
I ordered this on a Thursday and received it the following Monday (5 Stars) on quickness!!! We have 3 Large Dogs and while I am a bit OCD, LOL. I want people to see my dogs, but I don't want my house to smell like I have dogs and have been pretty successful at accomplishing that. apron receiving my order I immediately went to work cleaning just my Kitchen walls, WOW the smell is amazing and I didn't notice any of the streaking as mentioned in other reviews. I only gave 4 Stars because I need a little more Cleaning Time, but so far I'm pleasantly impressed and ordered other product. * side note~ doesn't work well on Stainless Steel, leaves a White Film.. I'm hoping the Shower Glass Cleaner will work to help keep my Stainless Steel sink cleaner longer???
11/12/2020
Healthier Home Products
Melissa; First - glad to hear 5 Minute CleanWalls is helping you with your dogs (send us pictures if you can - we're all dog lovers here!). I know it helps at home with my wheaten. Second - if you need to use the product on stainless steel a rinse with clean water afterwards should eliminate any film you mention. Third - sinks staying clean longer. Shower Door Magic contains a polymer that leaves a microscopic film behind that sheets water which helps to prevent build-up thereby prolonging a clean surface as opposed to an untreated sink. Over time the film wears away but is replaced every time you clean again so you should see your sink staying clean longer. This, combined with the gentle cleaning formula and pleasant scent is why we say 'you'll enjoy cleaning...less often.' Kent
11/09/2020
Linda V.
United States
Wall bundle and laundry detergent
I really like the kit. I used it on our walls. Made the house look and smell really clean. I was sent a sample of the laundry detergent. I liked it so well I ordered it.
11/12/2020
Healthier Home Products
Linda; Thank you and thank you - for the kind review and the re-order. We promise we will always work hard to earn and keep your trust! Kent PS - you're going to love how your clothes look, smell and feel!